The Australian Dollar found firmer footing on Tuesday with regional sentiment seemingly buoyed despite a soft lead from Wall Street.
Treasury yields are generally slightly higher along the curve today with the notable exception being the 2-year note that has dipped below 4.70%.
The US Dollar is generally weaker across the board so far with the high beta Aussie and Kiwi Dollars being the main beneficiaries.
Washington announced that Treasury Secretary Janet Yellen will be visiting Beijing in July in further signs that the sometimes-frosty Sino-US relations might be thawing.
In a speech today, Chinese Premier Li Qiang hinted toward more measures to boost the world's second-largest economy.
The People's Bank of China set the Yuan stronger than anticipated at the fixing and this seemed to help sentiment in the region.
AUD/USD TECHNICAL ANALYSIS – WEEKLY CHART
The weekly chart reveals that a Bearish Engulfing Candlestick formation was created by the price action at the end of last week. It could suggest that a reversal might be unfolding and bearish momentum may evolve.
Potential resistance could be in the 0.6800 – 0.6820 area ahead of the previous peaks of 0.7011 and 0.7030 and of a cluster zone of possible resistance in the 0.0.7137 – 0.7157 area.
Support could be at the breakpoints of 0.6574 and 0.6565 or the late May low of 0.6458.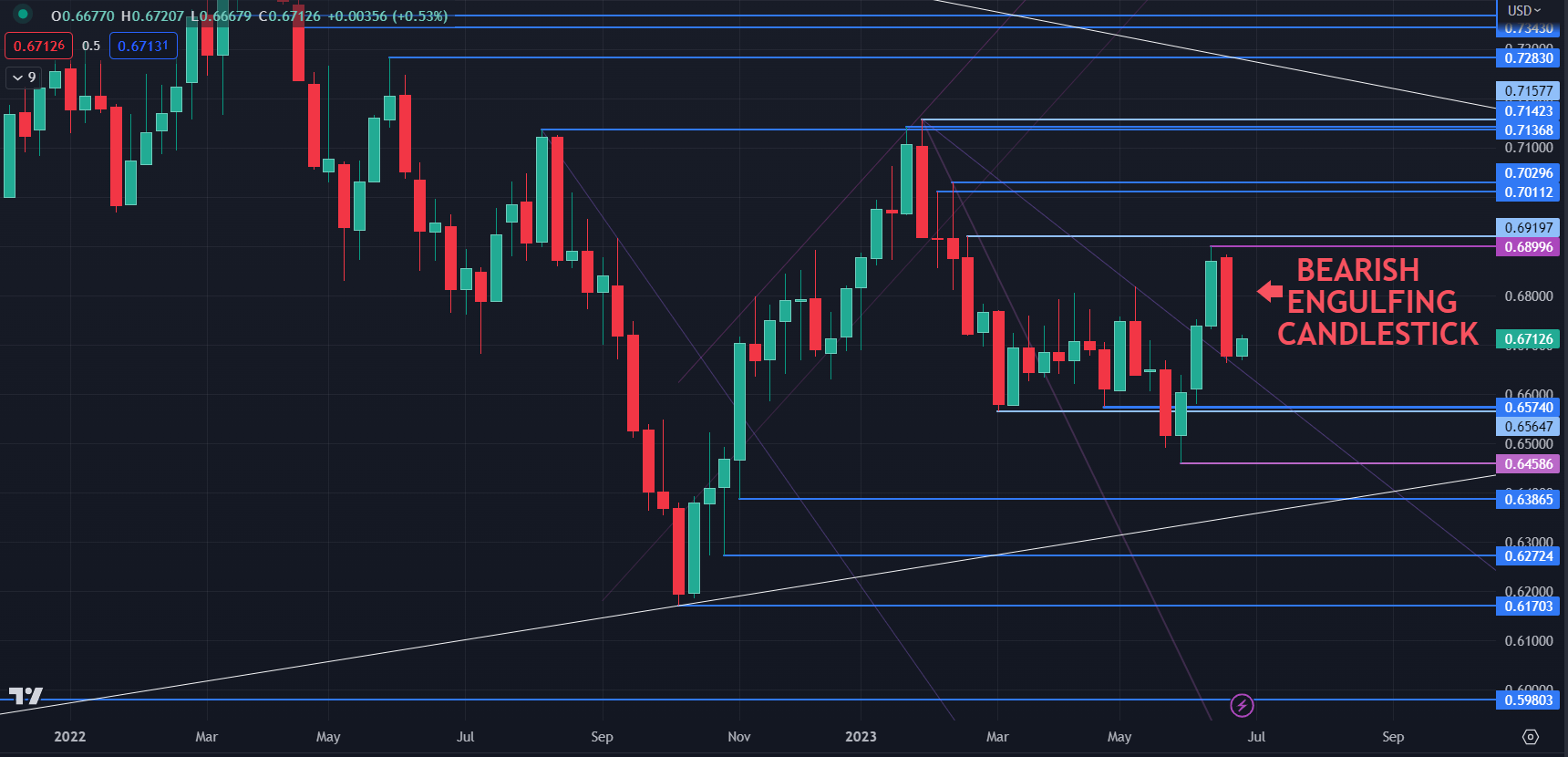 The Dow Jones, S&P 500 and Nasdaq all finished their cash session lower by 0.04%, 0.45% and 1.16% respectively.
US interest rate markets pushed back the timeline on rate cuts from the Federal Reserve, with the first such move now being priced in for early 2024.
USD/JPY continues to trade near its 7-month peak despite the reappointment last week of Masato Kanda as Vice Finance Minister for International Affairs.
The role oversees the FX market and in particular, if and when intervention will take place. Under his watch in late 2022, USD/JPY turned from its high above 150 in the aftermath of Japanese intervention.
The bank is yet to physically intervene in 2023 although some jawboning has begun as the price inched through the 140s.
In other geopolitical news overnight, Russian President Vladimir Putin referred to the Wagner group as traitors. The Russian situation does not appear to have impacted markets too dramatically so far.
Energy commodities are mostly relatively contained so far this week. Crude oil is steady with the WTI futures contract near US$ 70 bbl while the Brent contract is a touch above US$ 74.50 bbl. Gold is trading at just under US$ 1,940.