Fed Fund futures suggest US interest rates will be cut by 75bps by the end of 2023.
The US could run out of money by early June.
US Jobs Report (NFP) released at 12:30 GMT.
The US has finished its rate hiking cycle and will embark on an aggressive rate-cutting cycle from late July with rates expected to be 175 basis points lower at the start of May next year if the latest CME FedWatch Tool meeting probabilities play out. Rates are seen unchanged at the next meeting and then cut by 25bps at three out of the four remaining meetings this year. In addition to further 25bp cuts next year, current market pricing is showing a more aggressive 50bp cut at the meeting next March. While these probabilities constantly change, the current outlook suggests lower rates for longer going forward.
The US may not be able to pay its bills within the next unless Congress agrees to raise the US debt ceiling shortly. US Treasury Secretary Janet Yellen recently warned that the government may run out of money on June 1, sparking a potential default. While these discussions on the debt ceiling happen on a regular basis – the debt ceiling has been raised 20 times since 2001 – there is normally an outcome as Republicans and Democrats find a middle ground. The worries around a debt limit deadlock can be seen in the latest round of US Treasury Bill sales. Yesterday's sale of $50 billion 4-week T Bills – maturing on June 6 – produced a record all-time high yield of 5.84% as investors demanded more yield for risk associated with the potential default date.
US DOLLAR (DXY) DAILY PRICE CHART – MAY 5, 2023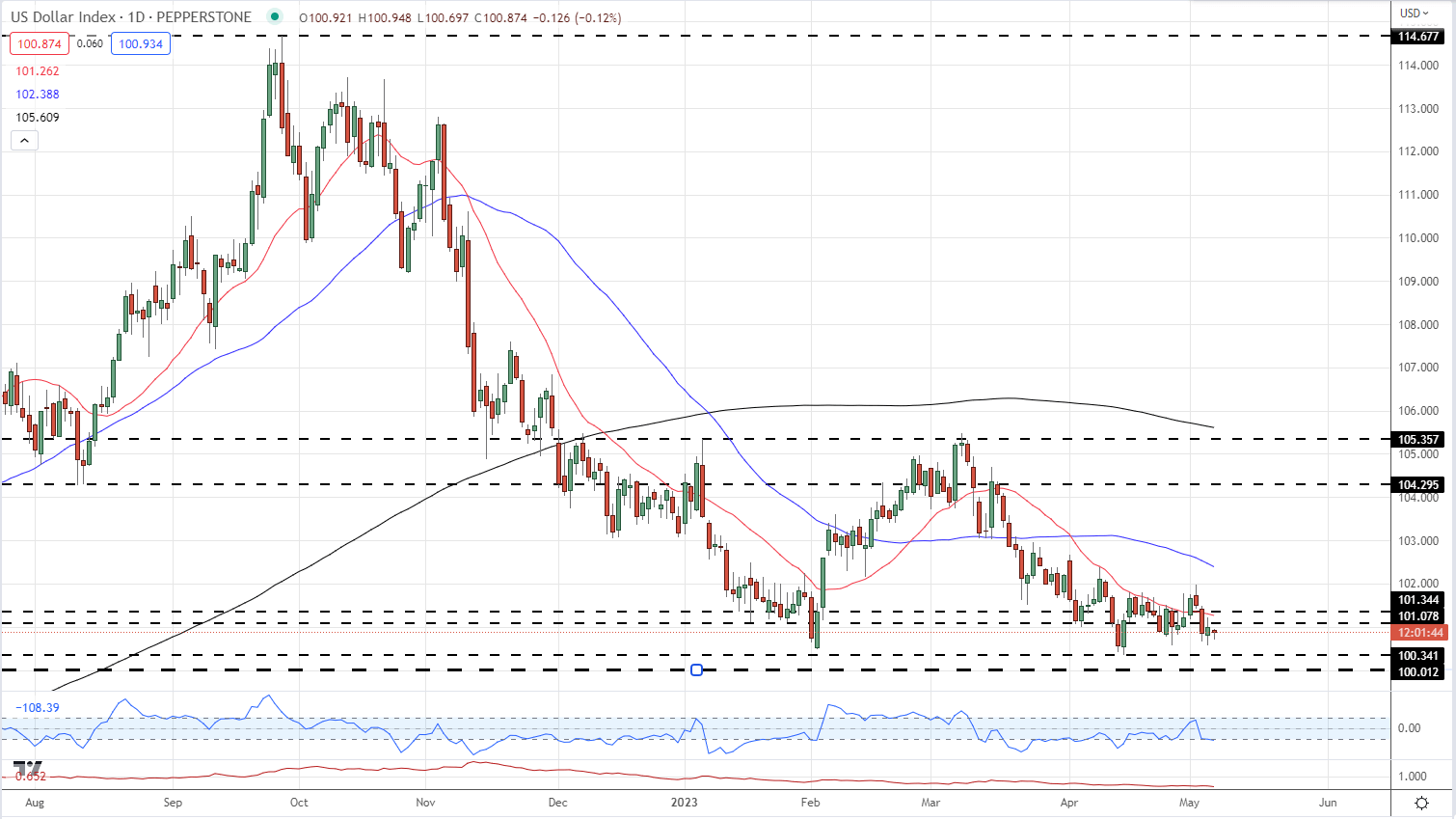 The US dollar remains stuck in a sideways trading range over the last month although the overall technical set-up suggests lower prices ahead. All three moving averages are in a negative set-up while the 20-day moving average continues to block any upside break. The April 14 low at 100.34 is the first level of horizontal support followed by big figure support at 100.